We're going to look at SEO (Search Engine Optimisation) and what you need to have in place to get more traffic to your website and of course more customers. This topic can be very confusing with many SEO experts promising the world but delivering little. For example, being ranked to your business name Is great but it's probably not what people searching for when they're looking. But what search will you look at to make it work? For today, we have a special guest to help us uncover that. Her name is Kate Toon from katetoon.com, Kate specializes in helping businesses get found online through great SEO strategies and content and we will touch on that during the interview
Kate Toon's Background
Her background has been working in agencies. She has worked in advertising agencies since around 1997 when at that time online and the internet were pretty new things in the marketplace
Kate originally worked a lot with corporate brands and big banks
About 9 years ago Kate went out solo starting out as a copywriter and then moving more specifically into SEO copywriting and then SEO audits and then teaching people how to do SEO themselves
General SEO Tips and Info
Content is more and more what's driving SEO. Often some of the more technical SEO people aren't very good explaining how things work or how you should do things.
Their focus is very much on the technical and not on the content and my belief is that Google appreciates a human first approach.
That's what it's all about and in terms of those people trying to game the system, Google has a huge team of people working on their algorithm to try and weed out all these people and that's who they're trying to weed out and I'm not trying to penalize the average Joe, the me and you, the mom and pop business.
Most of us will never be clever enough to do any of the things that will warrant Google getting cross with us – we just don't know how to do those things
20 or 30% of searches online don't even result in people taking any action clicking on any links
And so, if you flip that around 70% of searches do result in someone taking action.
Local vs Overall SEO Strategy
A local search marketing strategy is more important because more and more often I see these days even for my business, if you google "Marketing Consultants Sydney" for example, it doesn't come up with a list of options, it comes up with some ads then a map first of all which shows the options and then the listings
Local SEO is all about sort of positioning your business in search engines and other digital marketing platforms so you can be seen by the customers that you want to reach
Ranking normally from non location searches, pretty much the same as ranking for location searches.
You still need to worry about

how fast your site loads,
how easy is your site is to crawl through;
Has it got good usability (is the navigation easy);
has it got nice big buttons;
does it look good in a mobile or tablet device;
Is it responsive?
Does it have great copy that solves reader problems?
And is it not over optimized. So, you haven't shoved loads of stuff in trying to please Google

46% of all Google searches are local. So, they include local keywords in them whether it's your city, your town, your suburb. 64% of local customers use search engines and directories as a main way of finding local businesses
It's straight to Google and mobile search, 50% of that is dedicated to local searches and that makes sense. You're out and about your looking for a hairdresser, you use your mobile search function to find one. And a whopping 78% of local mobile searches result in an offline purchase
Title Tag and Meta Description
For those who aren't very SEO savvy, the title tag is the blue underlined link in search results and the meta description is the two lines of copy that sit directly beneath that (see image below)
You can control these on every page of your website and what you put on those can have a big impact on how you rank in Google
Make sure you stick to the character limits (65 characters for titles and 150 for meta descriptions)
Write complete sentences, make sure they are relevant to the page and you can include your phone number in the meta description
This is a great tip for local businesses as often people will search for a service in a particular area looking for a phone number and if they can see your number from the search they can call straight away
You need to do a little bit of work beforehand to work out what are the key things people are searching for and make sure that's what you optimized that page for
One of the best ways to do keyword research is through asking your customers, have a form on your website -"how did you find us?"- with an option for Google then another sub-option under Google where they can tell you what they typed in. This will give you invaluable intelligence into what people are searching for when they find you
Optimize your Google My Business Page
Google my Business is a free listing that you get on Google (that is owned by Google) If you don't own one or haven't created one yet do so as soon as possible
In some cases Google has generated one on your behalf and in this instance you will need to go through the process of claiming it, you will have to go through the verification process
You must use a real address, no PO boxes
You really need to take time to get that listing right. So things like having solid descriptions, categories, business hours, payment type and at least three photos
The thing with images on your Google My Business listing is that if you don't submit the photos yourself Google will select them automatically, so you might as well put some of the best images you have up
Also if customers are disgruntled they will go on that page and leave a review, and you need the right of reply. So, you know, people are always going to be talking about your business somewhere but at least be involved in that conversation
List yourself in Directories
There's a lot of free directiores out there from True Local to Yellow Pages, you don't necessarily need to pay for expensive upgrades on Yellow Pages but you should be at least using the free listing (see yellow pages image below)
Make sure they have an approval process. If you can just list without any kind of approval processes, its probably not a good directory to list on
I recommend that people spend a good day just going through every directory they can find related to their business
Also, speak to your local Chamber of Commerce, sometimes they have listings where you can list your business
What we're trying to do is create lots of instances of our business name, our address and our phone number appearing all over the internet. So, that Google starts to connect the dots, these are called citations.
Some people have mentioned to me in the past, be consistent with the description that you use across all those different directories and make sure you've got the same phone number, the same description for the business, etc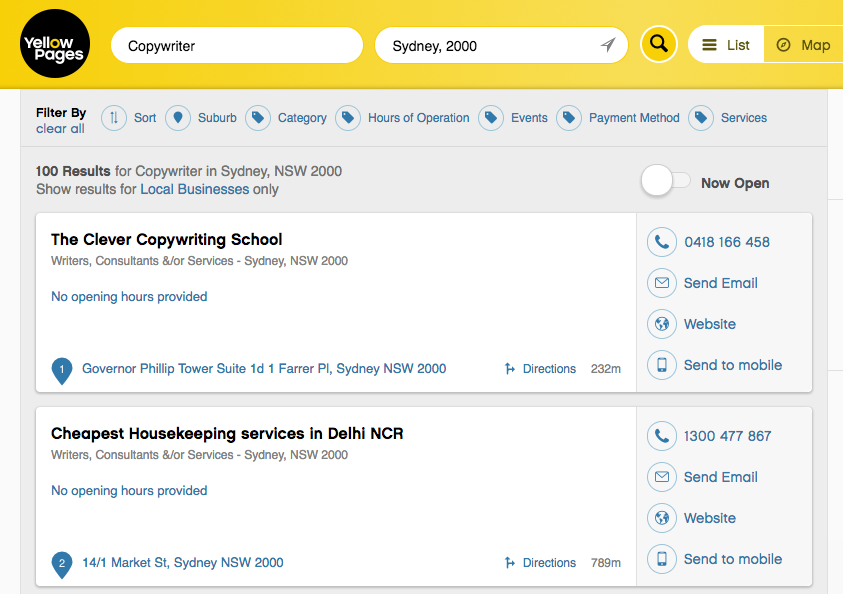 Build Local Links
There are links for local businesses to your website. Google likes to create mini worlds. This is the world of Newtown and all these people areinterlinking and that's why it's called the Interweb
Other ways to get local links are to get stories into the local newspaper. It may be a good idea to sponsor a local charity or a local football club and they mention you on their website
Lots of schools have newsletters and websites where if you support the school they will then mention you on their websites
You can get something back by giving back and this is sometimes called good karma SEO
Get Reviews
We want to get as many reviews as we can. So we want to get lots of reviews on our Google my Business page, that would be my top priority
There's a school of thought that says people believe in reviews even if they don't know the person giving them
Also, with Google my Business if you get lots of reviews, you get a little five star rating next to your local listing and who are you going to click? Somebody who's got a one star rating or somebody's got a five star rating
With Google my Business, when someone leaves a review most of the time it links through to a profile. So, you can click on a profile and see whether the profile is real.
Getting reviews on LinkedIn is another great tip and you can also get reviews on True Local
Receving reviews is all about striking while the iron is hot. Immediately after you have delivered a service, follow up with a little template and help people write them. You could suggest to them what to say and then they fill in the blanks.
Honestly getting reviews is about making it as easy as possible for people. Get that email address and send them the link. Don't make them find how to review because that will just take a couple of more minutes and they won't have time to do it
Setting up Schema
Schema is a language that talks directly to Google. Obviously Google can read our content but Schema makes it easier for Google.
It says things like for Business Name and then it has full Business Name. For Business Address and then it has your Address. Now Google could obviously crawl through your site and work out if that's your address because it recognizes words like street or avenue but Schema just tells them straight away and it makes it easier for Google
If you are on a WordPress site, there are some Schema plug-ins that you can get and it might be something to speak to your developer about, it's a great little thing and once you add it, you can really see a difference
Not something for the non-technical people to try and embark on but if yuo have a web develooper speak to them about the possibility of adding some schema to your website
Resources
Listen on your Favourite App
The easiest way to listen is to subscribe on iTunes. Reviews on iTunes are the best way for us to get more listeners and spread the word, every review counts so please take a moment to do so!